Articles
Monitoring Urban Sprawl in Atakum District Using CORINE Data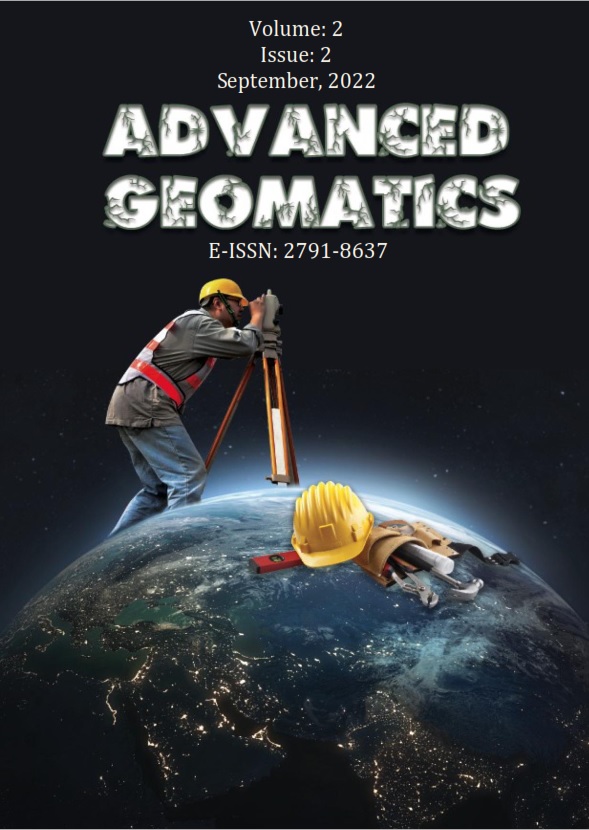 Published 2022-09-28
Keywords
Land Cover

,

Change Detection

,

Urban Sprawl

,

CORINE

,

GIS
How to Cite
Başara, A. C., Tabar, M. E., Gülsün, S., & Şişman, Y. (2022). Monitoring Urban Sprawl in Atakum District Using CORINE Data. Advanced Geomatics, 2(2), 49–56. Retrieved from https://publish.mersin.edu.tr/index.php/geomatics/article/view/481
Copyright (c) 2022 Advanced Geomatics
This work is licensed under a Creative Commons Attribution-NonCommercial-ShareAlike 4.0 International License.
Abstract
Population growth leads to the growth of cities and the destruction of natural areas. Urban growth triggers changes in land cover. Determining the change effects in land cover is essential for sustainable policies. In this study the temporal data were produced from the CORINE data for the years 1990, 2000, 2006, 2012 and 2018 for evaluating and understanding the land cover change for Atakum distrct. It is seen that, the study area is under intense urbanization pressure. Also, the land cover change data have an increase of 251.75% with +13.289,91 da in the artificial surfaces class.  In addition to these, it has a dense urban structure especially in seaside districts such as Esenevler, Denizevleri, Mimarsinan and Cumhuriyet neighborhoods; It has been determined that Yenimahalle, Mevlana, Küçükkolpınar, Güzelyalı, Körfez and İncesu Yalı neighborhoods are under the pressure of urbanization.
References
Arslan E S & Örücü Ö K (2019). Bodrum İlçesi'nin 1990-2018 Yılları Arasındaki Arazi Örtüsü Değişimi. Mimarlık, Planlama ve Tasarım Alanında Araştırma Makaleleri (pp.181-198), Ankara: Gece Akademi.
Başara A C, Tabar M E & Şişman Y (2021). Landslide Susceptibility Mapping of Samsun (Turkey) Province Using Frequency Ratio and AHP Methods . Türkiye Coğrafi Bilgi Sistemleri Dergisi , 3 (1) , 24-30.
Başara A C & Şişman Y (2022). Frekans oranı, kanıt ağırlığı ve lojistik regresyon yöntemleri kullanılarak heyelan duyarlılık haritalarının CBS tabanlı karşılaştırılması. Niğde Ömer Halisdemir Üniversitesi Mühendislik Bilimleri Dergisi. DOI: 10.28948/ngumuh.1065284.
Basara A C, Tabar M E, Gulsun S & Sisman Y (2022). Investigation of land cover change with GIS using CORINE data. 4th Intercontinental Geoinformation Days (IGD), 282-285, Tabriz, Iran.
BM (2019). World Urbanization Prospects: The 2018 Revision. https://doi.org/10.18356/b9e995fe-en.
Buttner G, Steenmans C, Bossard M, Feranec J & Kolar J (2000). Land Cover - Land use mapping within the European CORINE programme. Remote Sensing for Environmental Data in Albania: A Strategy for Integrated Management, 72, 89-100.
CORINE (2021). CORINE Land Cover Product User Manual. European Environment Agency (EEA) Kongens Nytorv 6 – 1050 Copenhagen K. – Denmark.
Falťan V, Petrovič F, Oťaheľ J, Feranec J, Druga M, Hruška M & Mechurová V (2020). Comparison of CORINE Land Cover Data with National Statistics and the Possibility to Record This Data on a Local Scale—Case Studies from Slovakia. Remote Sensing, 12(15), 2484.
Guan D, Li H, Inohae T, Su W, Nagaie T & Hokao K (2011). Modeling urban land use change by the integration of cellular automaton and Markov model. Ecological Modelling, 222(20-22), 3761-3772.
Heymann Y, Steenmans C, Croiselle G & Bossard M (1993). CORINE land cover technical guide. European Commission, CECA-CEE-CEEA, Brussels, Luxembourg.
Öztürk D, Şişman A, Maraş E E & Şişman Y (2010). Samsun-Atakum'da arazi kullanımı/arazi örtüsündeki değişimlerin uzaktan algılama ve CBS ile belirlenmesi. VI. Ulusal Coğrafya Sempozyumu, 1, 21-29.
Uyar A, Öztürk D (2019). Fraktal Analiz Kullanılarak Arnavutköy'ün Kentsel Yayılma Özelliklerinin Zamansal Değişiminin İncelenmesi . Teknik Bilimler Dergisi , Teknik Bilimler E - Dergisi , 28-31 . DOI: 10.35354/tbed.516116.
Üyük A, Uzun A & Çardak Ç (2020). CORINE Verileri ile Değişim Analizi, Denizli İli Örneği . Türkiye Peyzaj Araştırmaları Dergisi , 3 (2) , 97-107.
Verburg P H, Van de Steeg J, Veldkamp A & Willemen L (2009). From land cover change to land function dynamics: A major challenge to improve land characterization. Journal of Environmental Management. 90(3), 1327-1335.
Veldkamp A & Lambin E F (2001). Predicting land-use change. In: Elsevier.